Production and cultivation of olives and olive trees include 'top.php';?>
VIVAI
PIETRO PACINI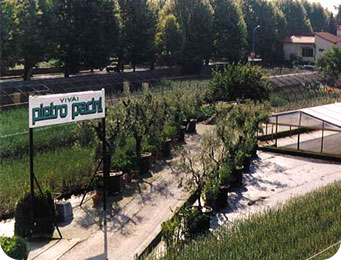 The activity of our nurseries dates back to the end of the 19th century, when Pietro Pacini, together with a few other nurserymen, besides other vegetable and flower produce of the area, started the grafting reproduction of olive trees on wild plant seeds.

This reproduction technique allowed a fast development of the olive-related nursery, so that Pescia became the most important center for this sector, both at a national and at an international level.

More than 40 years ago we started a new reproduction technique to add to the grafting, namely the rooting of cuttings in specific green houses.

We also started the cultivation of olive trees in pots, instead of the ground, as it was the case in the past.

Pietro Pacini Nurseries have always been a state-of-the-art company in this sector, and have received many awards both in Italy and abroad.


Characteristics of cultivars
The biologic and agronomic characteristics of olive tree CULTIVARS illustrated in this catalogue have been of course listed in a simple and concise form; at the same time we have tried to summarize a series of information necessary to identify the variety standard and to better help farmers in their technical choices.
[+] more
Regione Toscana
Servizio fitosanitario regionale
Dichiarazione NON PRESENZA del batterio Xylella fastidiosa sul territorio della Regione Toscana